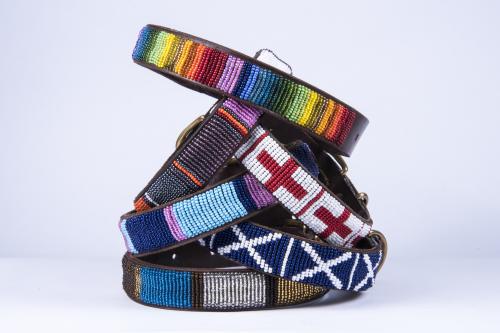 Beautiful, colourful beaded leather dog collars. Hand made on the Swahili Coast. Be prepared for lots of admiring glances from other dog owners because these collars are gorgeous. The Swahili word to describe our collars is "nzuri" meaning "beautiful". We also have some Zinj collars which can be identified by their Zinj product code.

You can see pictures of our canine customers wearing their collars in our Gallery.

Leather collars aren't indestructible! We strongly advise you use an additional restraint like a harness and do not rely only on the collar. Please note that as they are handmade, the sizes can vary, typically upto +/- 1cm in the position of the middle hole. Appearance of collar does vary with size.

The first 14 colours are our 'set menu' range and you can order more than one in the each colour/design. After the first 14, the colours are 'one offs'.....there is only one of each. However, with every delivery of new stock there is always an exciting new range of 'one offs', so check out the website often to see the new colours.
Please select a style / colour: